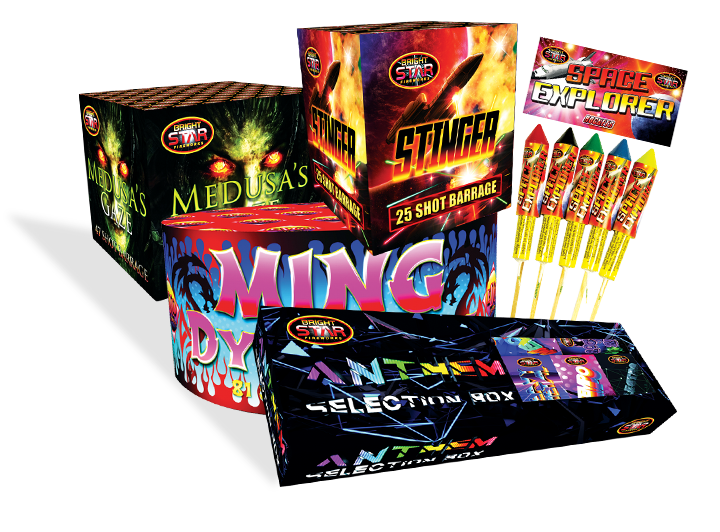 Largest Importer in the UK
Bright Star Fireworks was founded in 1992 and has grown to be the UK's number-one firework importer. We have a solid reputation for selecting the highest-quality fireworks for you: Quality, Safety, and Customer Satisfaction are our top priorities. Clearly, without any one of these three core principles, we could not hold the position we do today… and that position is firmly, and unquestionably, at the top.
We provide unparalleled service levels, delivery reliability, and a tremendous range of exciting and innovative fireworks. We have not held back and continue to look for fresh ideas and our latest, and most thrilling to-date is the merger with CUBE FIREWORKS. They have had a stratospheric rise in the UK firework market and the combined knowledge of the two companies will make us unbeatable.
You will have the confidence to work with us, knowing that you are dealing with the best and your firework business will grow.
But it does not stop there…
If you are new to retailing fireworks and perhaps a little reluctant to take that first step into firework sales, or even a well-established seller wanting to add something special to your range – we are here to help.
Firework legislation, storage, and sales can seem complex, but we have the knowledge, skill set, and contacts to help steer you along the way. We can help you at every step to become a successful, and of course, profitable firework seller.
Our team has over 150 years of combined firework experience in all aspects of firework storage, sale, and legislation. You can tap into this knowledge and ease the burden on yourselves.
Our representatives will advise you on what is needed, and we will help you. No company can make it to Number One without the support of their customers, and we in return will be there to support you. Both Bright Star Fireworks and Cube Fireworks are members of the British Fireworks Association – providing further reassurance to you that you will be dealing with a responsible company.
So why not give us a call and arrange for a representative to come and visit you – take that first step.
In the meantime, please click the link below to download our catalogue, and also browse the website and see what we have to offer.
Contact us to get TRADE price list & discounts.